Beauty is the promise of happiness. -Henri Rousseau
In September 1910, Henri Rousseau died at the age of 66. He died relatively obscure and definitely broke. You know. The oldest artist song in the book. While alive Rousseau exhibited his works with other artists and usually took a critical beating for painting in the "naive style."  Obviously, Rousseau transcended bad reviews and snobbery by his fellow artists. His work captures the imagination and brews up excitement for art lovers of all ages.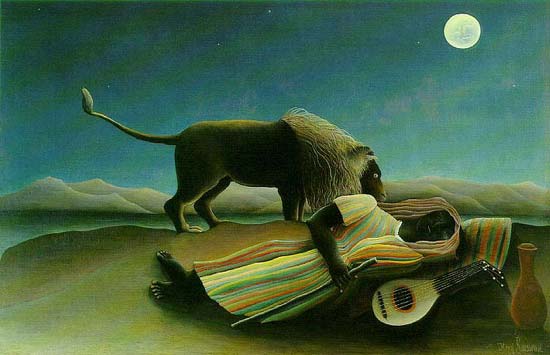 While reading about Rousseau this morning, one biography of the artist said that despite falling on hard times and harsh criticism "his faith in his own abilities never wavered." A former army officer with a teenage delinquent past, Rousseau claimed that for the most part he had no formal art training and that nature and his surroundings were his only teachers. Paris' botanic gardens, taxidermy in museums, the countryside and illustrations in books were all Rousseau needed to paint his famous jungle scenes. These works are what most artsy types consider his quintessential pieces despite the fact that they were universally hated at the time and that Rousseau himself never went to the jungle.
Rousseau's final painting was entitled The Dream. It was shown in an exhibition in 1910, a few months before he died. Despite dying in poverty, Rousseau's own dreams live on. He was a major influence on Picasso, Jean Hugo, Beckman, and the Surrealists. His paintings inspired Joni Mitchell's song The Jungle Line and even the animated film Madagascar.
There is clearly a lot to be inspired by with Henri Rousseau. His resilience and perseverance are good things for me to strive for on this gray Monday morning. Also, as I work on some big projects, I need to remember that so much of what I need for research or to stay inspired I can find right here or in my imagination. I need some library time today and Rousseau's use of the resources around him have made that a priorty for me today. Lastly, I will have an unwavering belief in my own talents today. Haters (especailly the ones in my own my mind) be damned!
Happy Monday everybody!